Aoyama Training Center Summary
Krav Maga Japan Aoyama Studio, opened on March 8, 2009, is the second training studio specialized for Krav Maga training in Japan.
This studio is located at the center of Aoyama, the cultural center in Tokyo, with good accessibility: 3 minutes walk from Omotesando Station or 12 minutes walk from Shibuya Station. This is also really good place for enjoying shopping and eating.
This studio is characterized by the stylish colors of "red and white", concept colors of Krav Maga Japan. We open 5 days a week now, (Sun, Tue, Wed, Thu, Fri) and we will increase to 6 days a week soon.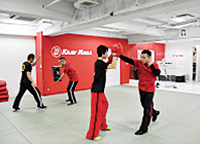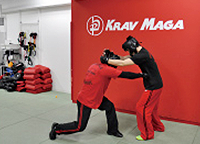 Inside The Center【Entrance】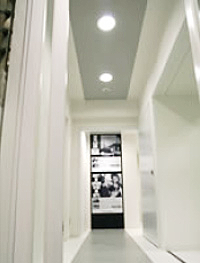 The studio entrance is on the first floor in the underground.

【Lounge】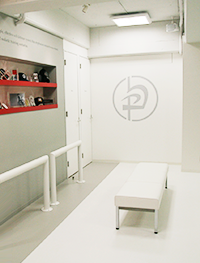 Our members usually spend their time here until the classes begin. The partition between the lounge and the training room is made of glass, so you can watch classes of various levels from here. (Visitors also watch classes from here.)

【Training room】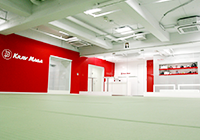 This space is characterized by Krav Maga Japan concept colors, red and white.

【Locker room】
Both male and female locker rooms have washstands, lockers, and showers.